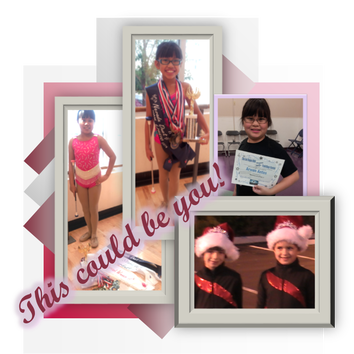 BATON TWIRLING

Group instruction with parade and performance opportunities.

Instruction with an experienced twirling coach based on your age, including adults, ability, and interests.

An individual notebook for practice and to track progress.

Beautiful personalized advancement certificates.

The potential to grow and expand your twirling knowledge.


The opportunity to focus on your strengths and interests, whether it be competitive twirling, parades, or school performances.
Let me know what you want to accomplish and I will work to help you meet your goals.


Flexible scheduling and pricing.
Tell me when you are available, what amount of time you desire, and your budget, and I will work to set up a program that meets your needs.


An emphasis on strong fundamentals, teamwork, coordination, showmanship, unison, and timing.
You don't just learn how to twirl, but receive an in-depth education in, and understanding of, the art.


Private instruction available in NBTA solo one baton/twirl, Super X Strut, modeling/best appearing, pageant, 2 and 3 baton, flag baton, hoop baton, duet, trio, basic and military strut/march along with fire baton twirling.


The opportunity for you to compete at "America's Youth on Parade" each July at Notre Dame University in South Bend, Indiana, the AAU West Coast Baton Twirling Nationals and the Junior Olympics.
---